By serving an almost perfectly level surface, flat roofs offer simplicity in every aspect, from installation to replacement.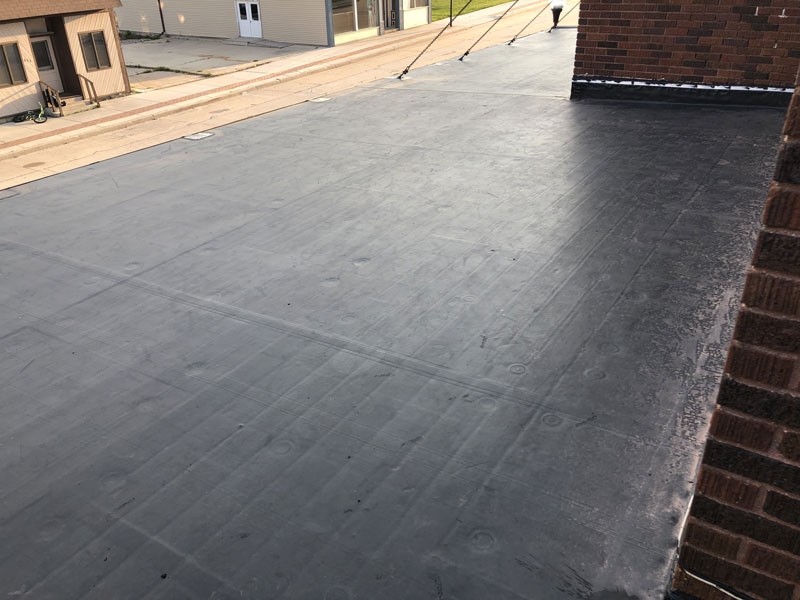 Flat roofs are a popular solution for buildings of all kinds, be they commercial, residential, or something in between.
Wisconsin Roofing, LLC is your local flat roof expert. Our skilled staff members will work closely with you to decide which of our flat roof services are right for your particular building. Even better, we are always just one call away should you need maintenance and repairs.
What Are Flat Roofs?
Flat roofs are most frequently made from some combination of concrete, synthetic rubber, and asphalt. The installation process for flat roofs is unique depending on which of these materials is used. The three most common types of flat roofing systems include:
Single-Ply: A relatively new and advanced roofing technology, there are several types of single-ply membranes available, including EPDM, TPO, and PVC. Single-ply roofs are lightweight and durable at the same time, offering incredible resistance to wear and tear.
Built Up Roof (BUR): The most traditional flat roof material, BUR incorporates several layers of hot tar and gravel. As one of the most affordable and weather-resistant flat roofing options, BUR has stood the test of time.
Modified Bitumen: Developed in the 1960s, modified bitumen roofing builds upon BUR technology by adding the extra protection of mineral-based layers and cap sheets. Modified bitumen offers a reflective quality that keeps buildings cool in the face of heavy sunlight.
Why Opt for a Flat Roof?
Owners of homes and businesses alike have reported great satisfaction with their flat roofing systems. The benefits of flat roofs are numerous, but a few of the most important ones include:
Affordable compared with alternatives
Simplicity in installation, maintenance, repair, and replacement
Aesthetically pleasing
High performance in heating and cooling needs
Provides more usable space (i.e. rooftop patio)
Durable and resistant to leaks, fire, storms, and extreme temperatures
To make the most of flat roof benefits, it is important that you utilize assistance from roofing professionals such as Wisconsin Roofing, LLC. The more care your roof receives now, the less costs and headaches you'll incur later on.
Your Trusted Flat Roof Partner
Wisconsin Roofing, LLC is proud to have installed quality flat roofing systems on homes and businesses of all shapes and sizes. Known for our unmatched expertise and service, we can't wait to discuss your flat roof questions and get to work. To learn more about the attic services of wisconsin Roofing, LLC, and to claim your free, no-strings-attached estimate, call us today at (262) 349-6338.